Regular price
Sale price
$15.99 USD
Unit price
per
Sale
Sold out
Brand: Death Grip

Features:
SERIOUSLY SUDDEN DEATH; The Mustache Wax You Want On The Go; Fast Strong On Point; No Heat Source Required
STRONG HOLD MUSTACHE WAX; Hold those unruly mustash whiskers in place for 8 plus hours all day even in hot humid cold or windy weather; much better than oil or balm
LASTS A LONG TIME 1oz metal tin mustache wax can last up to 4 months of daily usage; non scented
HANDCRAFTED MADE IN COLORADO USA; All natural cruelty free ingredients competition grade moustache wax
SUDDEN DEATH MUSTACHE WAX GUARANTEE; If you are not satisfied for any reason we will refund your money
Details:  CAUTION FOR SERIOUS MOUSTACHES ONLY - If you are a man looking to take his mustache game to the next level Sudden Death is the mustache wax for you. 
The right ladies will take notice & people will talk to you regularly about your stylish mustache grooming skills. NO hairdryer or a heat source is necessary to warm the sudden death mustache wax
. Just like the name, it's SUDDEN use with a strong hold that won't disappoint. STRONGHOLD - Our mustache wax has a pliable semi-sticky tacky glue-like wax feel that holds those unruly stash whiskers in place for 8+ hours. 
Much better than beard oil or balm. Of course, every mustache is unique. For those in warmer climates like Arizona or Florida, this is the serious hold mustache wax you have been looking for that does NOT "pill" up. LASTS A LONG TIME Sudden Death mustache wax is known to last some of our customers up to 4 months of daily usage. Perfect for men grooming brown, black, grey or white handlebar mustaches. MADE IN THE USA Our handcrafted 100% all-natural & cruelty-free ingredients are safe on your skin & completely chemical-free. 
Our products are produced in Woodland Park, Colorado USA! Sudden Death moustache wax is founded by a US Veteran.
Sudden Death moustache wax is a perfect combination of beeswax, pine rosin, organic shea butter & coconut oil!
SUDDEN DEATH SATISFACTION GUARANTEE Sudden Death mustache wax's strong firm grip has helped men maintain their stylin' stash at water parks, extremely hot temperatures, white water rafting & more. Just scroll up and click add to cart & see for yourself.
Share
View full details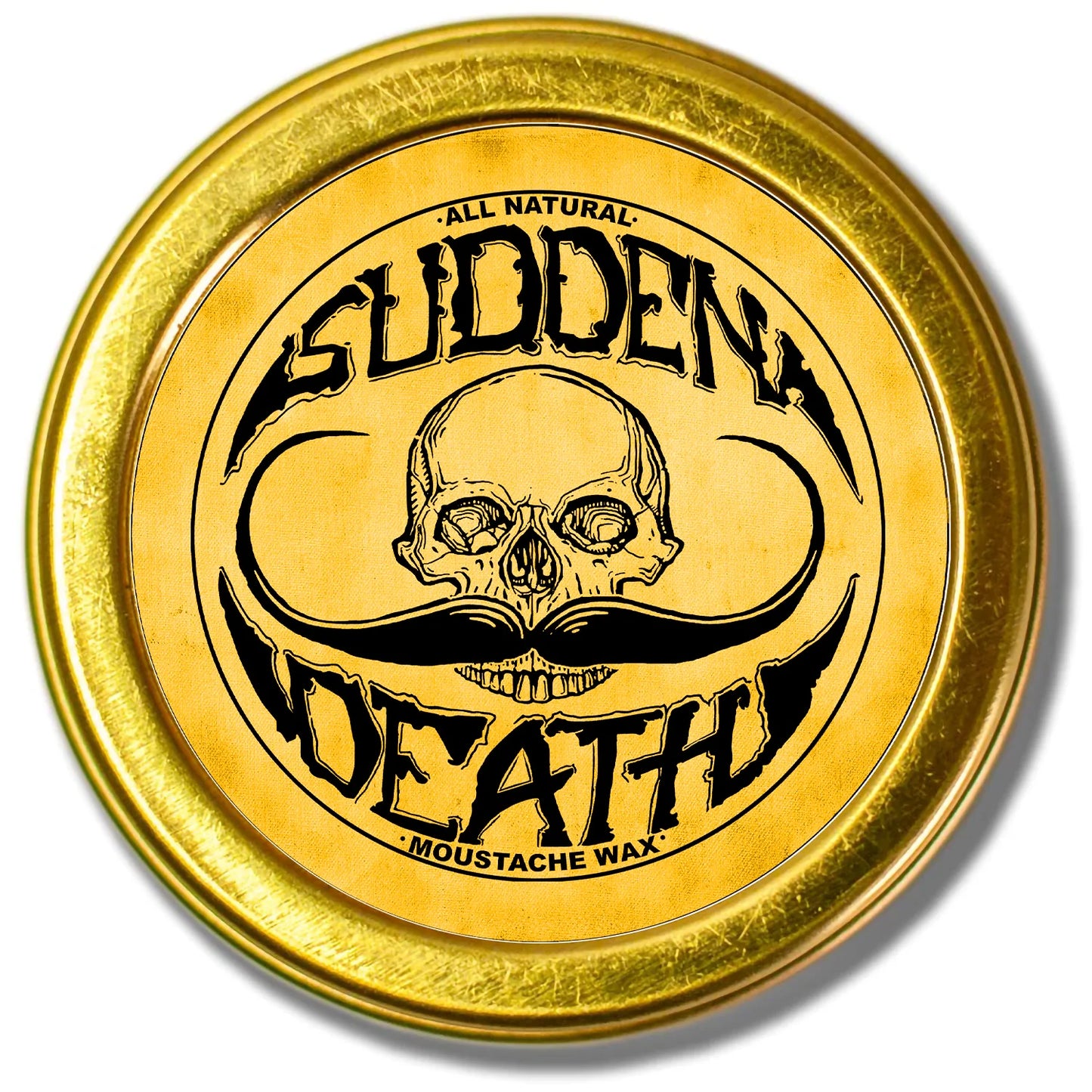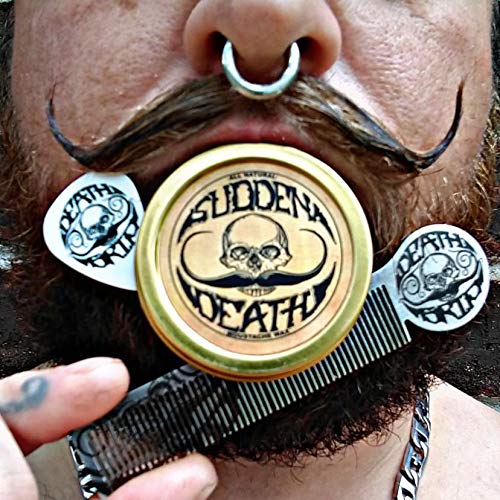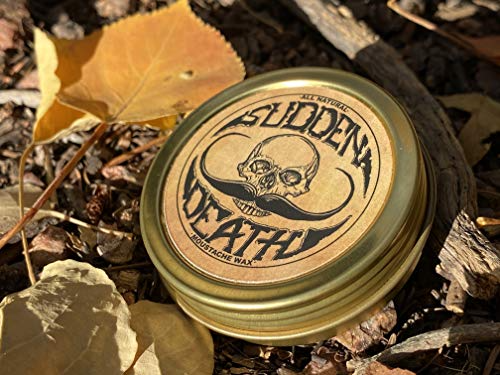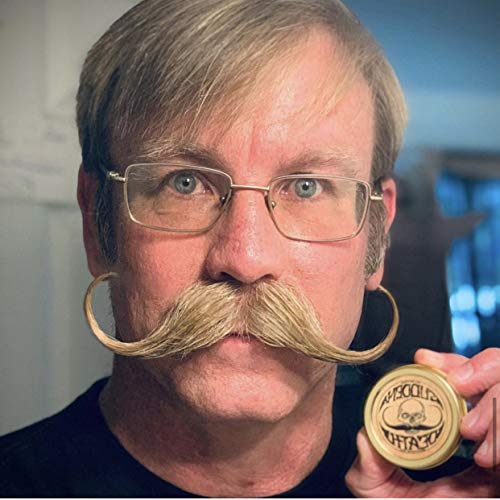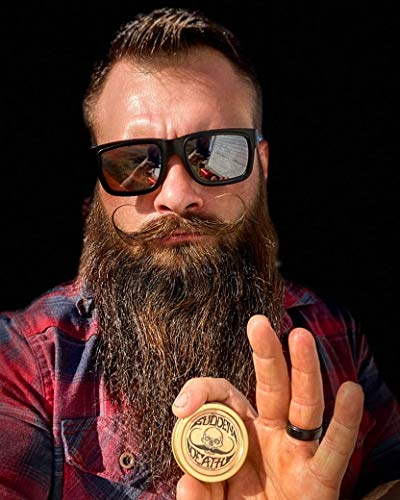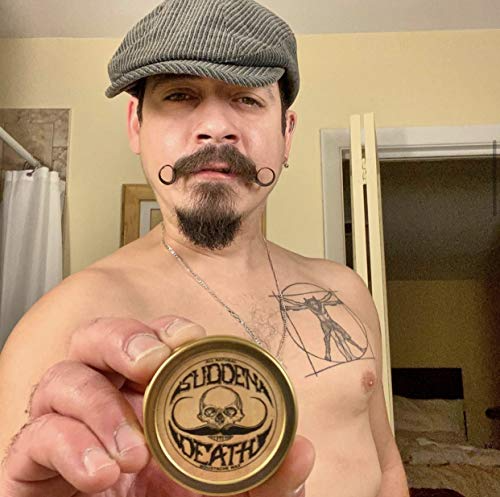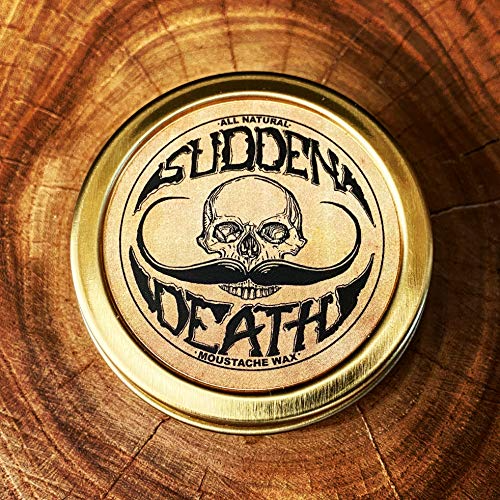 Free Shipping Available in USA

Order placed in the USA get shipping for FREE $60 or more

Death Grip 100% Satisfaction Guarantee

Contact us for any reason regarding your order. We stand behind our product with a 100% satisfaction guarantee.