Regular price
Sale price
$15.99 USD
Unit price
per
Sale
Sold out
Brand: Death Grip Moustache Wax™️
Features:

This is the best extra strong hold mustache wax money can buy.

The Bullet point on Death Grip:

CAUTION FOR SERIOUS MOUSTACHES ONLY
Hairdryer or lighter with a little bit of practice is required


EXTRA STRONG HOLD
Holds those unruly stash whiskers in place for 8 plus hours even in hot weather


LASTS A LONG TIME
1oz metal tin mustache wax can last up to 4 months of daily usage; non scented


HANDCRAFTED MADE IN THE USA
All-natural cruelty-free ingredients competition-grade moustache wax


TOTAL SATISFACTION GUARANTEE
If you are not satisfied for any reason we will refund your money

CAUTION FOR SERIOUS MOUSTACHES ONLY

If you are a man looking to take his mustache game to the next level Death Grip is the best mustache wax for you. 



The right ladies will take notice & people will talk to you regularly about your stylish mustash grooming skills.

A hairdryer or a lighter is necessary to warm the wax-up to make it malleable, then with a little bit of practice, you'll be able to get your stash just right.


THE BEST EXTRA STRONG HOLD MUSTACHE WAX AVAILABLE
Our mustache wax has a pliable semi-sticky tacky glue like wax feel that may hold those unruly stash whiskers in place for up to 8+ hours. Some of our loyal customers report a stronghold overnight or even for several days. 


Of course, every mustache is unique. For those in warmer climates like Arizona or Florida this is the serious hold moustache wax you have been looking for that does NOT "pill" up.


DEATH GRIP MOUSTACHE WAX LASTS A LONG TIME
Death Grip mustache (moustache) wax is known to last some of our customers up to 4 months of daily usage. Perfect for men grooming brown, black, grey or white handlebar mustaches.


DEATH GRIP MUSTACHE WAX MADE IN THE USA
Our handcrafted 100% all-natural & cruelty-free ingredients are safe on your skin & completely chemical-free. 


Death Grip moustache wax is founded by a US Veteran. Death Grip moustache wax is a perfect combination of lanolin, beeswax & pine rosin!


You will also get top-notch customer service reflected in our 4.9 out of 5-star seller feedback rating. We understand service, mustache wax & how to provide you with the best all-around mustache grooming kits and product available on the market.

Please note: Pine Rosin is an ingredient in this product for those allergic to pine trees.
DEATH GRIP MUSTACHE WAX SATISFACTION GUARANTEE

Death Grip mustache wax's extra firm grip has helped men maintain their stylin' stash at water parks, extremely hot temperatures, white water rafting & more. If you are not satisfied for any reason we will refund your money.
Death Grip has been rated the BEST Mustache Wax on Amazon time and time again earning the #1 Best Seller Award consistently. With well over 8,300+ amazing reviews, it's no accident.

Just scroll up, click view on Amazon and add to cart.

Check out this short video and perk those handlebars up for your stellar moustache!


Package Dimensions: 5.2 x 3.0 x 0.8 inches
Extra Strong Mustache Wax
Death Grip Mustache Wax - the ultimate styling solution for serious mustache enthusiasts. If you're looking for a wax that will give your mustache a firm, extra strong hold that lasts all day, look no further. This national championship award-winning wax is the best of the best and has received over 7,000+ customer reviews.
Handlebar Style Mustache Wax

This wax is perfect for those who want to style their mustache in a handlebar style, or for those who want to keep their mustache in place throughout the day. The extra strong hold of this wax ensures that your mustache stays put, no matter what the day throws at you. Unlike other mustache waxes, Death Grip Mustache Wax requires a hair dryer for proper application. This extra step may seem daunting, but it's well worth the effort. By heating the wax with a hair dryer, you'll be able to achieve a hold that's simply impossible with other waxes.

All Natural Ingredients Mustache Wax
But the benefits of Death Grip Mustache Wax don't stop there. This wax is specially formulated with all-natural ingredients that will help to nourish and strengthen your mustache. It's made with beeswax which is known for its nourishing properties and will leave your mustache healthy and strong, allowing it to grow to its full potential.

Award Winning Competition Grade Mustache Wax

If you're serious about your mustache, then Death Grip Mustache Wax is the only choice. With its national championship award-winning formula, superior extra strong hold, and natural ingredients, it's no wonder why it has received so many positive reviews. This wax is perfect for handlebar mustaches and mustaches, ensuring that you look your best all day long.

Order now and experience the difference for yourself!
Share
View full details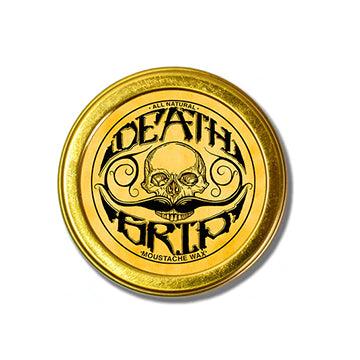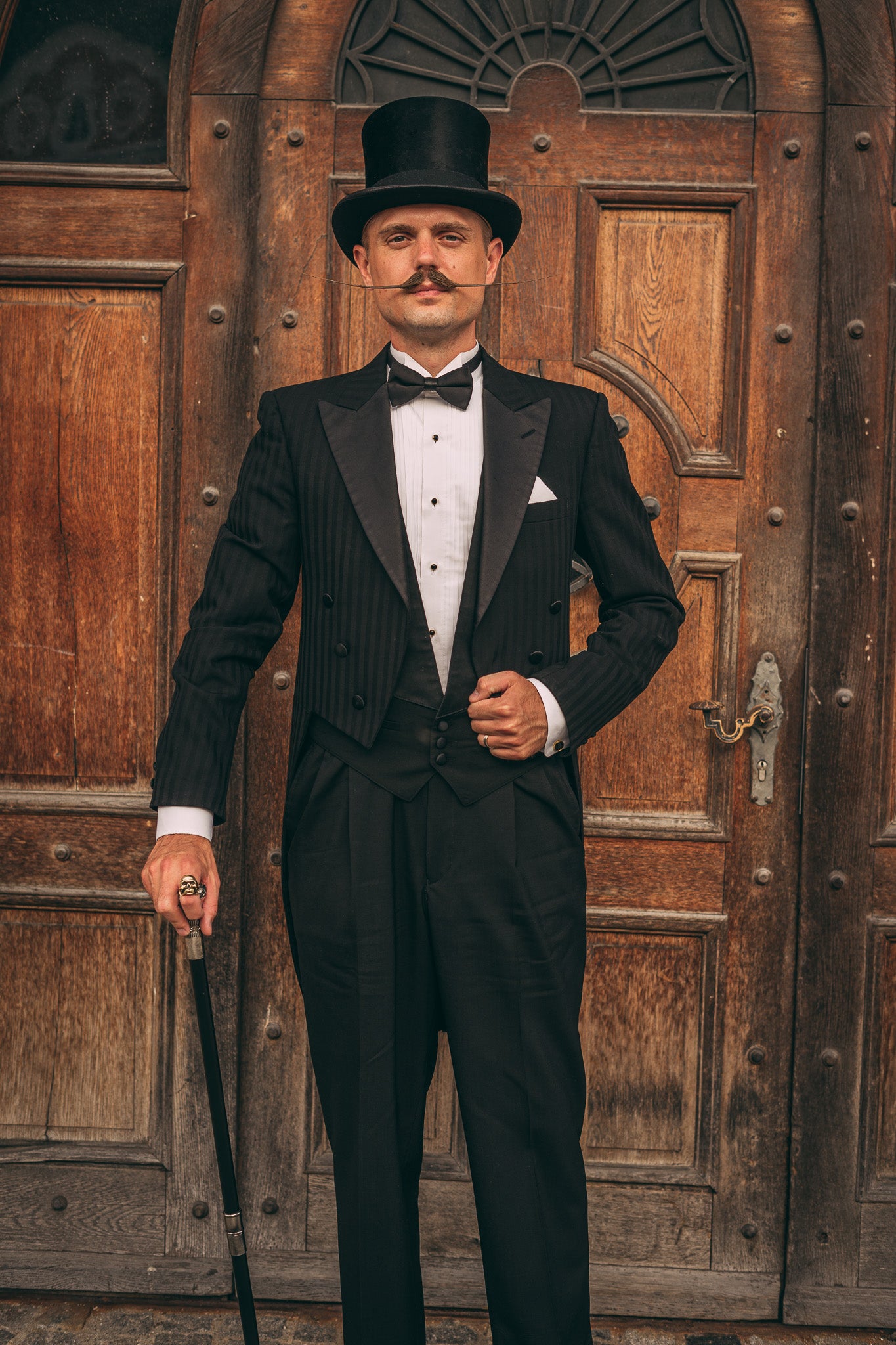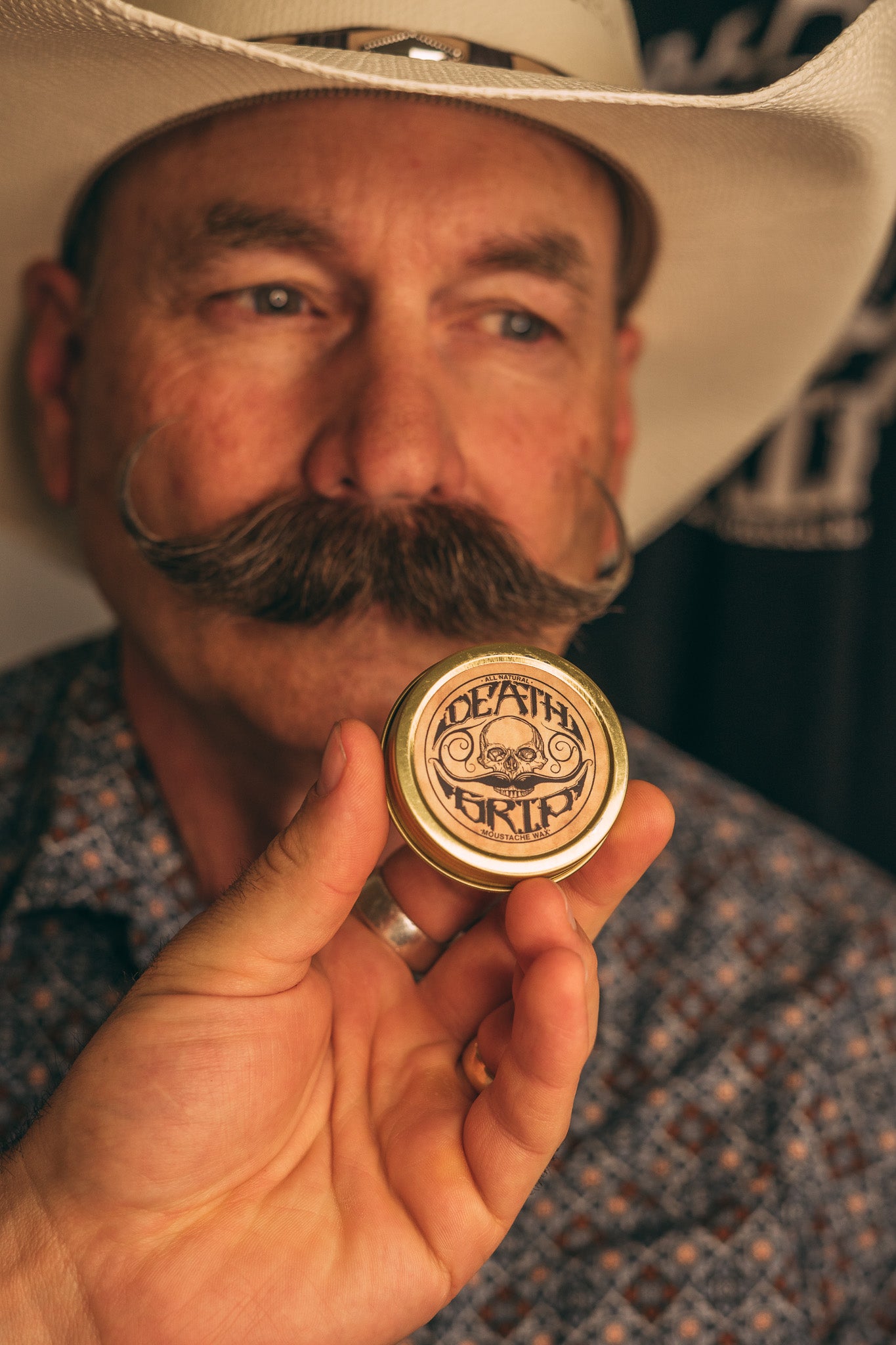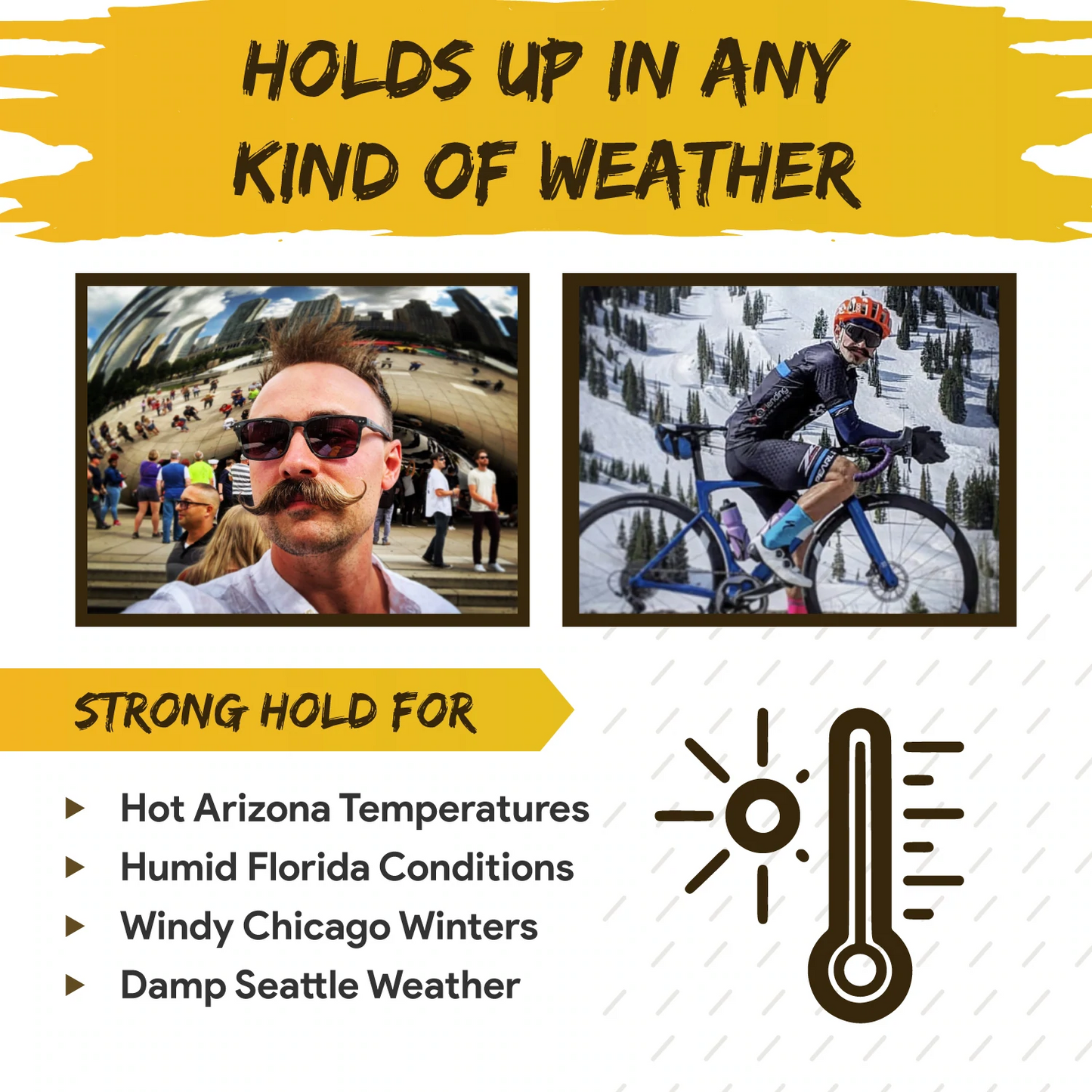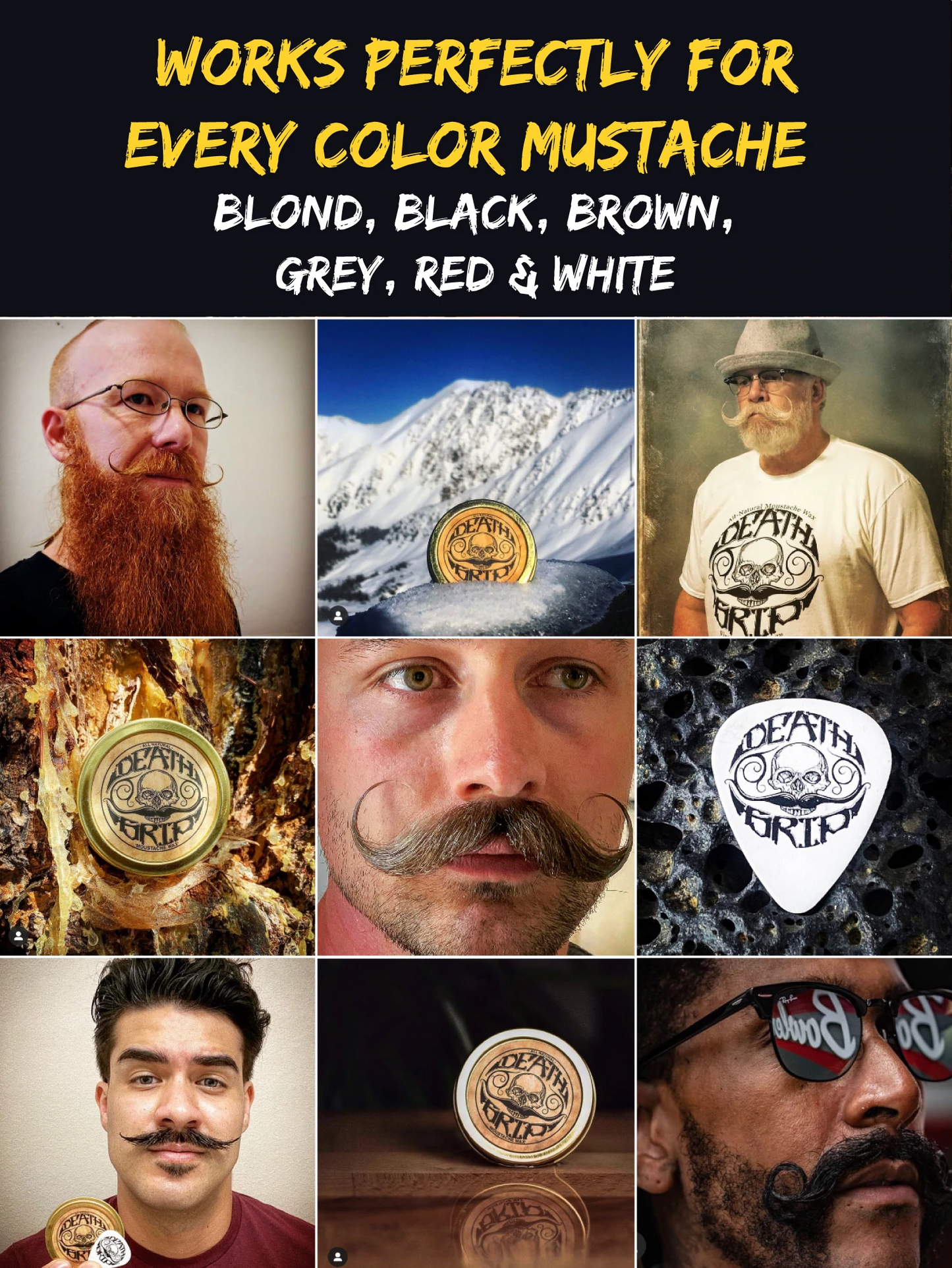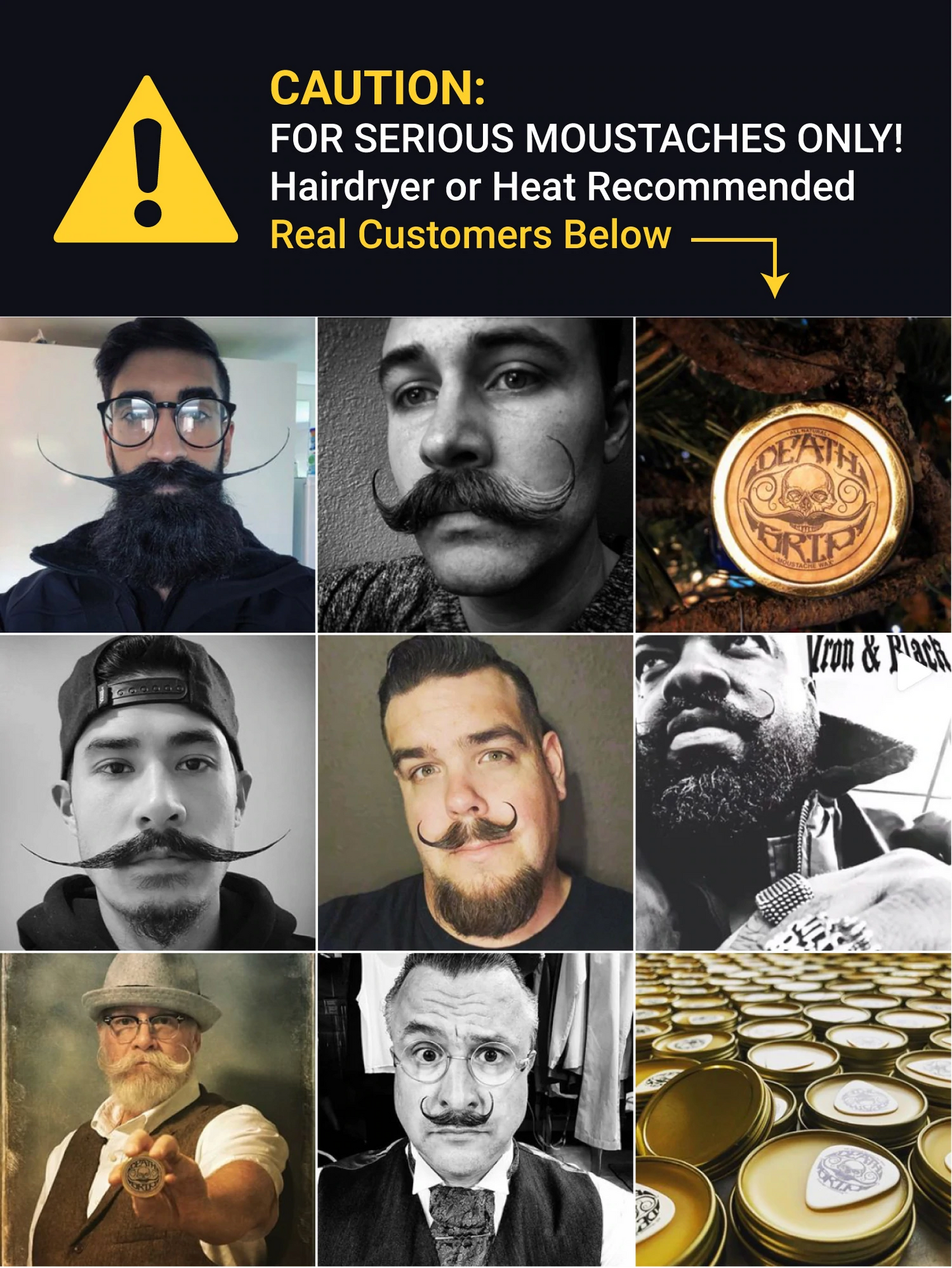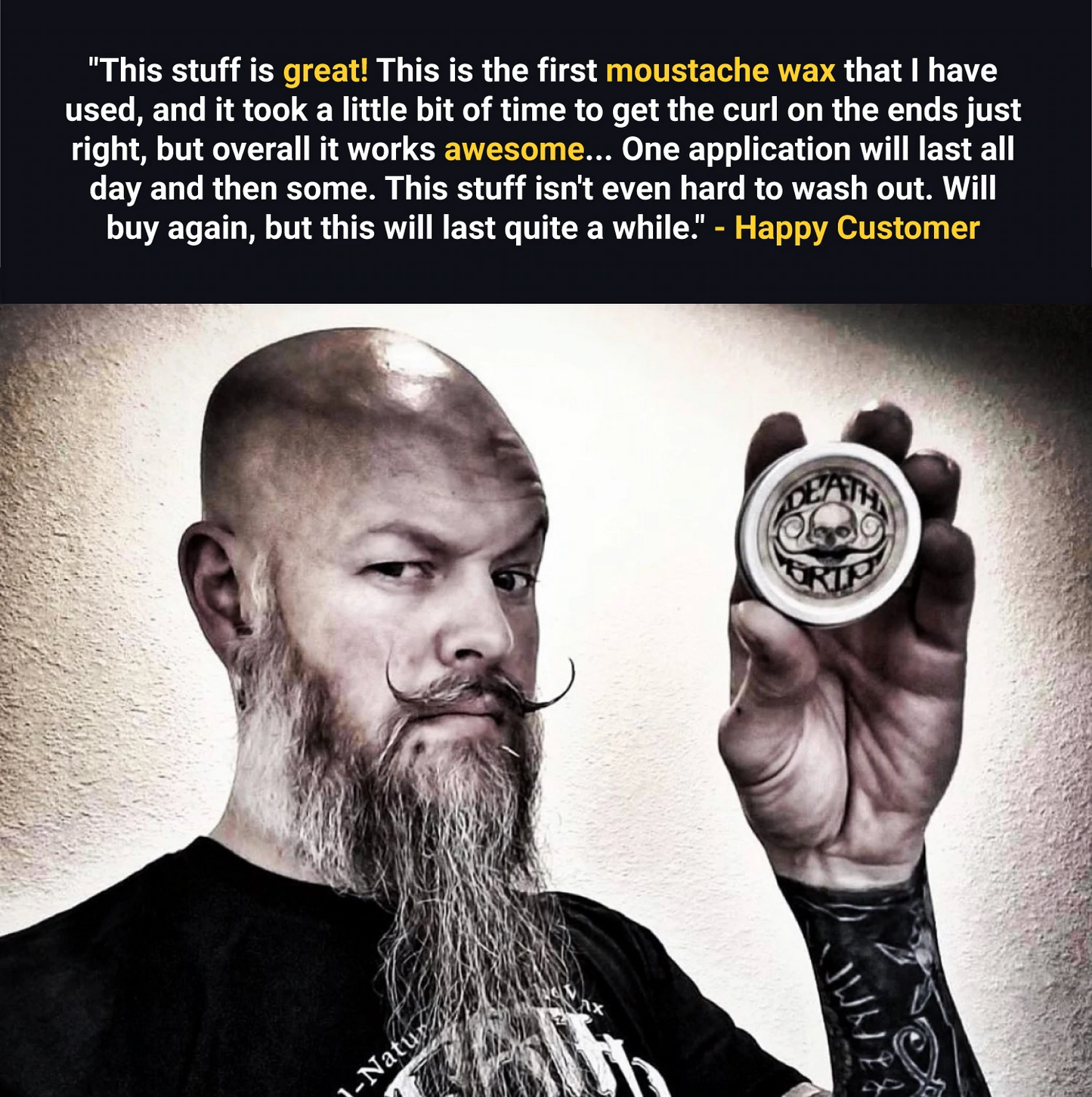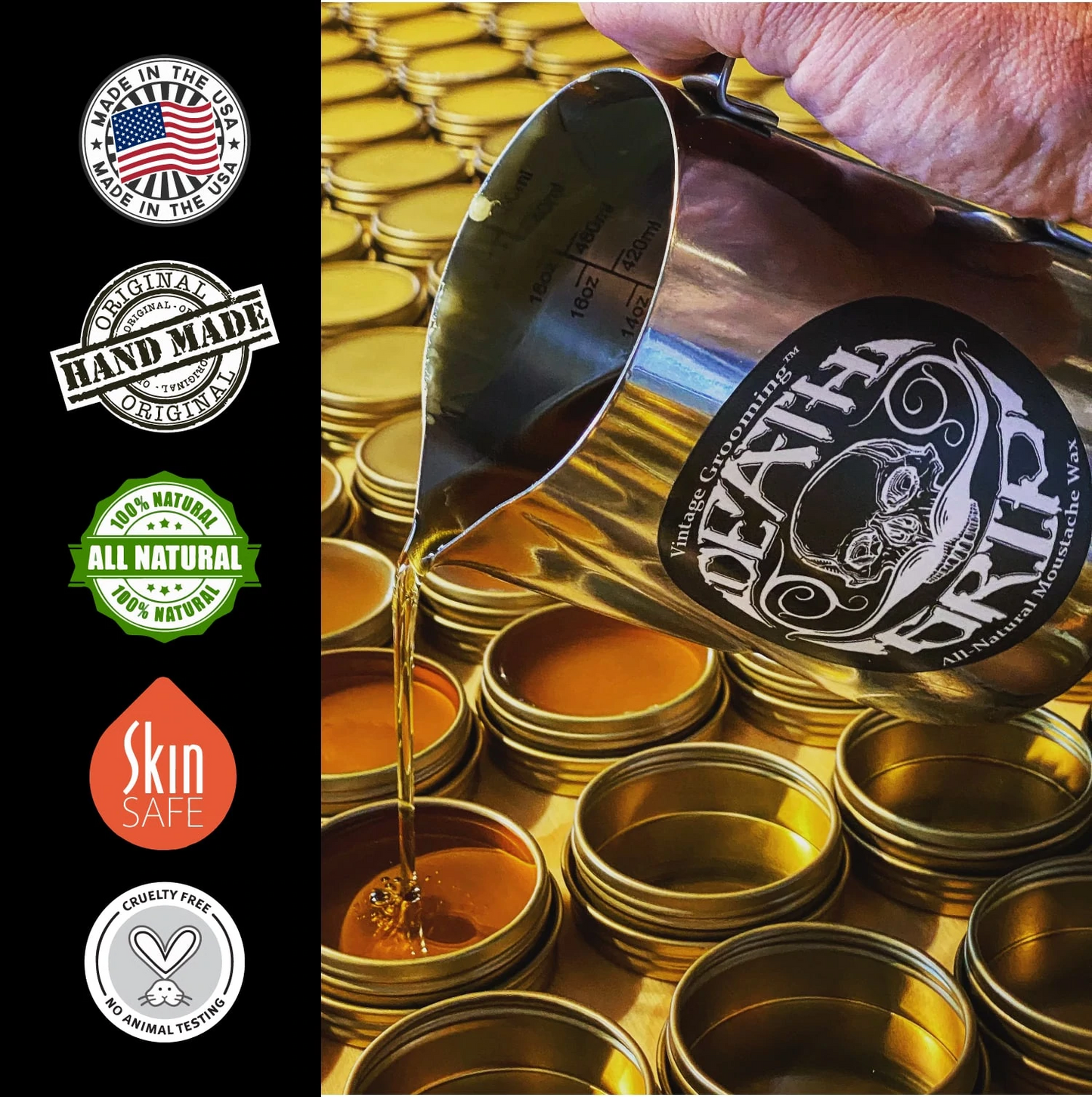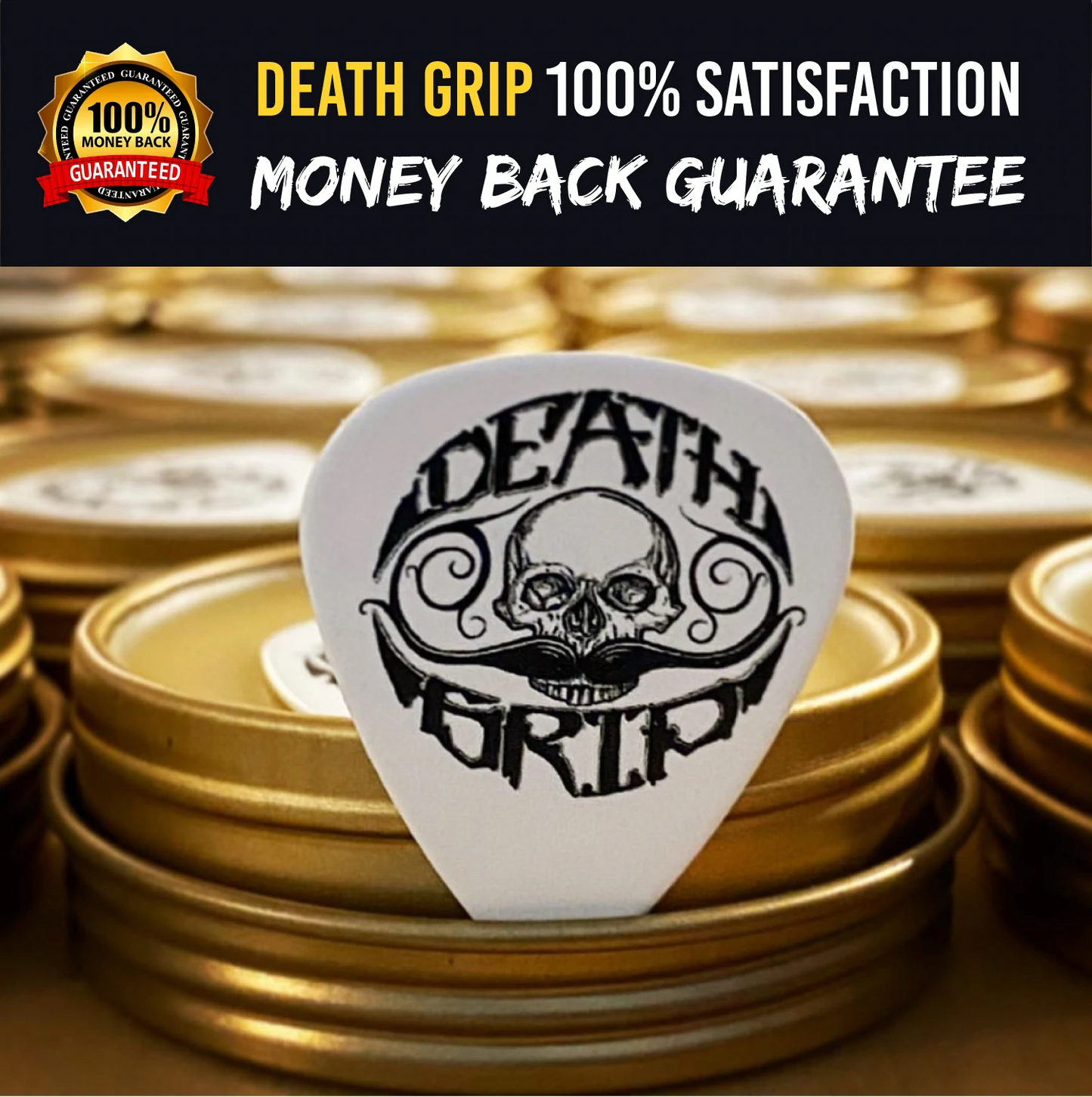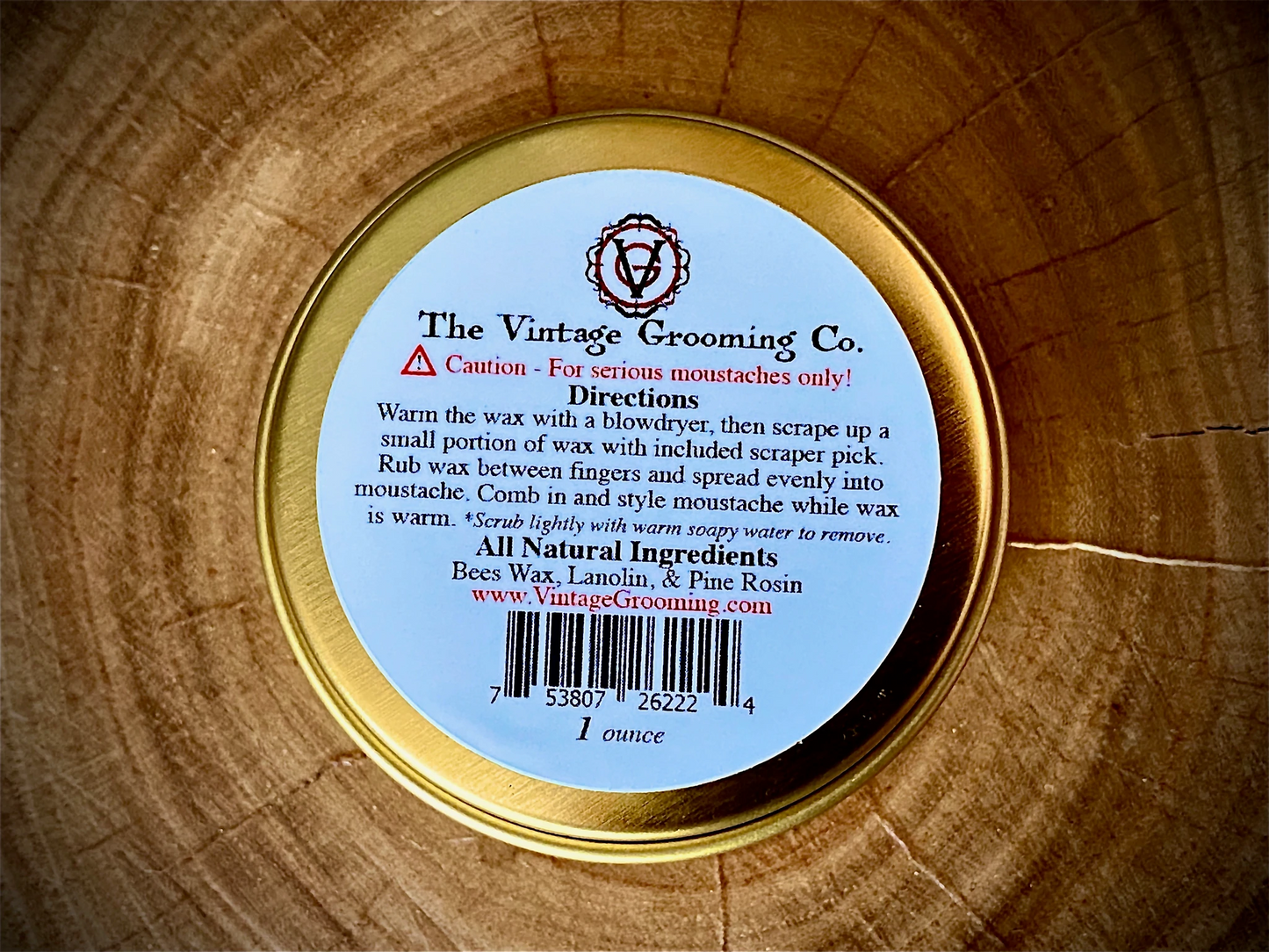 Free Shipping Available in USA

Order placed in the USA get shipping for FREE $60 or more

Death Grip 100% Satisfaction Guarantee

Contact us for any reason regarding your order. We stand behind our product with a 100% satisfaction guarantee.